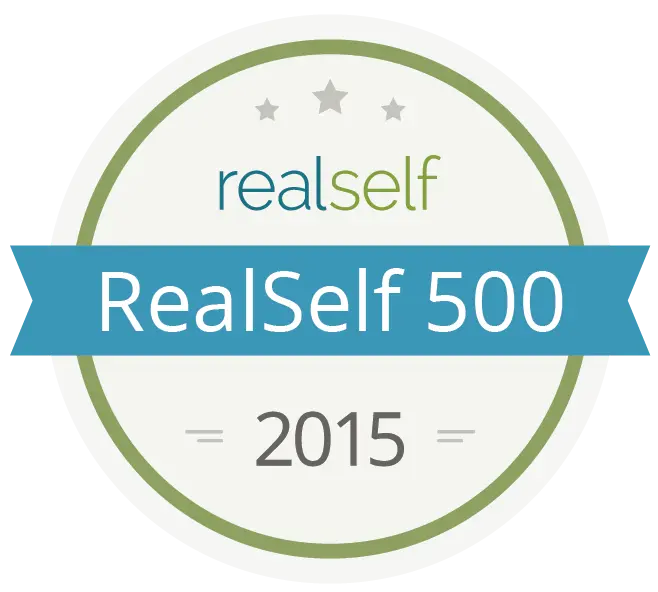 Below are some of the great testimonials that have been posted on RealSelf.com about Dr. Berman. These are past patients and people that Dr. Berman have helped make their outer beauty reflect their inner beauty.
Thank you to everyone that has written me such a fantastic review. I loved hoping each of you and look forward to the opportunity to help even more people. If you are interested in procedure, you can schedule a 100% free consultation and I will walk out through all of your options and help you set your expectations of what is possible.
Disclaimer: Results may vary for different individuals.
Dr. Berman is amazing, communicates very well and answers all your questions. I got my smartlipo only yesterday and the whole process very smooth. The doc even followed up few times to make sure I am doing ok. More to come as I start seeing results.

from consult to procedure, Dr. Berman was incredible in answering my initial questions and leaving me with realistic expectations of the outcome. I actually think I fared better than he even expected. Follow up care has been and still is EXCEPTIONAL. It's been 15 days and I am getting around extremely well, to include driving. My incision looks better than the smaller incision I had from 2 C sections. he is an artist! My scar is going to be amazing since it already looks fantatic! I can text him at anytime, and he answers. No question is too menial. He feels more like a friend than my surgeon. I am 55 years old. He made me feel like I was worth his time, and I was worthy of seeing this procedure through to fruition. I had a lot of sagging skin, and not due to massive weight loss. If you are contemplating a tummy tuck, I say go for it with Dr. Berman. You WILL NOT regret it. Best wishes!

I have no complaints. Dr. Berman answered all of my questions. After my procedure, tummy tuck, he text me the next day to make sure I was recovering okay. He is very down to earth, not a standoffish physician with a God like demeanor. He continued to see me for the first month every two weeks to be available to answer any questions.

I flew from San Francisco as my sister in law highly recommended DR. Berman. I am very pleased with my experience. Had a tummy tuck and breast augmentation 6 weeks ago. Dr. Berman and his staff were absolutely phenomenal. He has been caring and concerned. He checks on me everyday and answered my texts right away. I am also very happy with the results. My stomach is definitely flat and my breasts look amazing. I feel more confident. I've been a yo-yo with my weight all my life and I had a flabby and fat belly. Flying to Dr. Berman was definitely worth it and I'm already planning to use his services again in the near future. You're absolutely awesome Dr. Berman and staff.

I had been wanting to get a tummy tuck for years and interviewed several doctors. Dr. Berman was the first doctor that made me feel comfortable enough to get it done. I had the procedure done 3 months ago and am so happy with the results. Dr. Berman followed up every step of the way. I was able to call him with any questions and he called me several times to check in on me. I was back to work the following week. The only regret I have is that I waited so long to get my tummy tuck done.

I have had such a great experience with my tummy tuck and ab separation fix! Dr. Berman answered all of my questions and the surgery itself was much less painful than I anticipated. I'm mid-40s with 5 Kids and no longer look like I'm always pregnant! Its been only about ten days and the recovery has been so much easier than I thought. I was off the pain meds in two days, sore but not intolerable. Results have far exceeded my expectations. Follows with Dr. Berman have been helpful, just really grateful for the professionalism and experience.

I have been really pleased with the results of my tummy tuck and lipo. The doctor was answered all my questions before the procedure and followed up after to make sure I was recovering well. I would definitely recommend Dr. Berman!

I had a tummy tuck and lipo to the flanks a week ago with Dr. Berman. He's an excellent surgeon and has a fantastic bedside manner. He answered all of my questions and checked on me frequently after my surgery. I also had a very quick recovery and after two day was off prescriptives pain medication.

If I could give 10 stars, I would. Dr. Berman is the best. I had Smart Lipo done to my entire back. The WHOLE time, he was so accommodating and made sure that I was ok. I was the definition of anxious before the procedure. But Dr. Berman assured me that everything would be fine and he addressed ALL of my questions in detail. I am healing wonderfully and I'm glad that I chose Dr. Berman!

After having 5 children I was having trouble getting rid of the stubborn fat around my belly button area, I exercise, eat well etc. Not matter what, that area would not go away. Dr Berman was actually the second consult I went to, I decided to go with him because he and his staff are welcoming and kind and his work speaks for itself. I feel at home here. I am only 2 weeks post recovery and am already seeing great results. Dr B gives his cell phone number to post op clients which was amazing to have him at my fingertips when I had questions. I am so glad I made the decision to get smartlipo! Thank you Dr Berman and all the amazing staff! I am excited to see the continued progress! I would absolutely do this all over again!

Dr. Berman is an absolute artist and a caring professional. I've had several procedures, and each time, he takes his time to understand concerns, applies his artistic eye and gets incredible results. At times during consultation, he has told me not to consider certain things that I came in for, explaining why they would not be in my best interest aesthetically. He has saved me money, frustration, and several times even pointed me in a different direction that was far more results oriented. Dr. Berman also has a kind demeanor which truly makes me feel at ease. He is a true professional. Accredited and accomplished. I trust his eye, his honesty, and his professional office environment.

Dr. Berman was great! He was knowledgeable about Smartlipo and was very helpful through the whole process. It has been two weeks since my procedure and I feel great! I can already see results and can't wait to see what I will look like when I am completely healed. I was able to return to work the next day with not much discomfort and returned to a light workout routine after 5 days.

I had an amazing smart lipo experience with Dr. Berman! Personalized approach and great results! I even sent my friends his way, he is gifted!!! I see my abs more defined and waist thinner, that's exactly what I wanted! The best part is that the doctor would share his own number with patients to give them a piece of mind in case something bothers them.

Dr. Berman is the best surgeon hands down. It is not up for debate. I previously saw another surgeon for liposuction, had a horrifying experience. I saw Dr. Berman for liposuction for three areas, and the difference working with him is night and day. Throughout the entire process he was accommodating, easy going, and very easy to talk to. He understands your goals and needs, which is generally hard to find in a surgeon. After my surgery I was up and hour later walking my dogs and back to my usual routine. I'm now two weeks post-op, and I'm getting ready to book with him again for another round of liposuction. He is the only surgeon I will ever use from here on out. Thank you Dr. Berman & staff! You have helped me immensely!

I don't know where to start. Dr. Berman is the nicest man you'll ever meet. I went there for during my separation/divorce desperate for a new me. I had been with my ex since I was 15 and my self-confidence wasn't there. I had loose skin around my belly button from a belly ring while pregnant. He fixed my belly button area as well as Smart Lipo and Botox. He didn't push anything which was nice to meet someone looking at what's best instead of dollar signs. Dr. B gave me back my confidence. I actually met someone the same month I divorced! We are now happily married and have a little girl together. Even with Botox Dr. Berman will let you know upfront if he doesn't think you need it. He's very knowledgeable on nutrition as well.

Dr. Berman is amazing! My procedure was seamless from start to finish. Easy to book appointments, staff was friendly, and Dr. Berman personally checks on you after the procedure and responds to texts quickly. I am only 5 days out and very happy with the results! Minimal pain during recovery and I didn't even feel anything during the procedure (I chose local anesthesia with oral sedation). Wish I did this 10 years ago!

Of the several plastic surgeons I've visited in the DC area for my labiaplasty, Dr. Berman has proven to be the absolute best. From the consultation, to surgery day, and recovery, every step of the way has been stress free, painless, and most definitely life changing. Check in texts with Dr. Berman kept reassurance in the recovery process - something I very much appreciated. Without a doubt, no other doctor would have my trust with the delicacy of this procedure. Incredibly glad for Dr. Berman and his awesome staff for their skill!

After menopause, the cellulite on my legs seemed to multiply overnight. I exercise regularly, eat a sensible diet and maintain an average weight. I began to avoid looking at my legs and wearing shorts. I did my homework on the procedure and providers and decided to give it a try, feeling like things couldn't get any worse. I had the sides and backs of my legs treated. The results are beyond my expectations. I'm wearing shorts again and feeling good about my beautiful healthy legs.

In addition to the Cellulaze treatment on my thighs (sides and back areas), Dr. David Berman also treated the back of my arms and upper back with SmartLipo. While it takes months to realize the full benefit of the treatments, I already see great improvement. My thighs are much smoother, my back fat is gone and I will finally be sleeveless this summer - the first time in years!! Dr. Berman is a master at both Cellulaze and SmartLipo. His many years of experience are quite evident both during and after the procedure. His follow-up is impeccable. He is very caring. Best of all, there was absolutely no downtime. I worked on the phone the evening I had the treatment and in-person the following day. Dr. Berman's staff is proficient, kind and patient. I highly recommend you have these treatments with Dr. Berman and look forward to a summer of NOT HIDING!!

I recently underwent Cellulaze on my thighs with Dr. Berman and I was very pleased with my experience. My results were really fantastic, really better than expected. Completely independently of my results, however, I would rate Dr. Berman and his practice very highly. Very impressed with the friendliness and professionalism of Dr. Berman and his staff.

My experience with Dr. Berman and his staff has been a very positive one. I am a mid 40s African American female in med/dark skin tone range and mother. I could see the bruising, but it has since gone away for the most part. Ref the injection sites or sites where the laser was inserted, I can still see the marks. The incisions for the procedure are really tiny - smaller I think than regular Liposuction incisions which was another selling point for me (no, I have never had any other Liposuction/surgeries before this). My marks are dark, but not too noticeable. I use bleaching cream just on the incision site to blend with the rest of my skin tone, but it's really not necessary - can't tell unless you are really scrutinizing to see them. No I did not buy the cream specifically for these incision sites, but already had some to treat my acne scar hyper-pigmentation spots from my dermatologist. I initially went in for a consultation for smart lipo on my abdomen and possibly flanks. What impressed me was his candor and honesty. He told me up front that I wasn't a candidate - my fat was visceral and recommended I try to lose some weight (I was 25lbs over my 'normal' or usual weight of 150lbs at 5'6"). After a few months I went back for another consultation for Cellulaze. Dr. Berman answered all of my questions and let me know up front that I might not have what I consider to be 'perfect' results. I then spoke with his office manager/staff further about the costs, and everything else related to the procedure. Unlike other reviews I have read on this website, my experience was a very positive one. Everything went well on the day of the procedure and I took the medications as directed. I knew what to expect on the day of and even afterwards, Dr. Berman called me that night to check up on me. No they do not provide the post surgical compression garment. I had to procure my own, but this was told to me upfront on the day of the consultation. Some might have an issue with this, but I didn't since I already had a couple of compression garments and what was recommended to wear was a compression garment similar to a Spanx. I had my procedure almost 3 months ago and can already see results. I was sore, but never experienced any crippling pain afterwards. Everyone's pain tolerance is different. I did have bruising a couple of days later all purple and blue on the back of my legs, but this has gone away now. I can still see it just a little, but not much on one leg. Overall, great experience!

The Cellulaze was amazing. It was completely worth it and had great results. It was priced fairly and not super expensive. The pain was minimal. Honestly, not much worst than being sore from a hard workout. I was able to do my normal activities the same day. I am so happy I had the procedure.

I had a mommy makeover done with Dr. Berman which included a breast lift with implants and a tummy tuck. I have been wanting to do this for a while now, with my second grandchild about to be born, I was ready. Dr. Berman made me feel comfortable and explained to me the procedures that I was interested in doing. He recommended that I do everything all at once so I wouldn't have to go under twice. I am two weeks out and everybody has been asking me who I went to for my surgery. I look and feel fantastic. I recommend Dr. Berman to anyone who is looking to make the leap.

I went to Dr Berman for a mommy make over because after 3 pregnancy my body needed some help. Dr Berman understud what I wanted and he deliverd it. I love my new belly and breast.. Thanks to Dr Berman and his team. ???? Also want to mention that they have a Portuguese speaking person on they're team. I felt so at home been able to speak my home Language.

It took me a long time to finally take the plunge and get my TT and breast lift. Dr. Berman and his staff made me very comfortable with the entire process. Realistic expectations and how to prepare myself for before and after. Dr. Berman has made himself available for all my questions (silly as they may be) and made me feel like his only patient. I'm VERY pleased with my results and know that he went above and beyond for my surgery. I feel amazing and am sooooooo glad I did it. I feel like a brand new woman. The process was seamless and I was back to the gym 6 wks postop. Thank you so much for such a wonderful experience!

Over the past year, I have been one of Dr. Berman's patients. I have done Abdominal Liposuction and lower Eyelid Blepharoplasty with him and I have received very satisfying results. Dr. Berman is very experienced in his field, in fact, he is one of the best surgeons in the area. He is very honest and provides good recommendations. Also, the prices are very reasonable. His office is very clean and the staff is very nice. If you are looking for an honest and experienced plastic surgeon, I definitely recommend Dr. Berman.

I had SmartLipo with Dr. Berman, and am very impressed with the results. I'm equally impressed with the communication and responsiveness from Dr. Berman and his staff. Everyone was very knowledgeable and attentive, which made for an overall great first-time experience.

I am still trying to find the words...... Bedside manner 1000%! Dr. Berman understands me and gives me good tips. I am having a hard time giving up the carbs, which we all know are the key to unlocking one's maximum weight loss capacity. He gives me useful tips on how to gradually and painlessly phase them down (not out) and how to make my limited exercise time really count. I had my SmartLipo procedure about 5 months ago and I can see and feel the results. I still have a ways to go but I feel confident in knowing that I have a true partner, doctor, and motivator in Dr. Berman. The staff at his office are really personable and I feel their support with each visit. Calling to schedule or reschedule appointments is a breeze. Visiting Dr. Berman was the best decision I made!

I was very pleased with the results of my Labiaplasty. Very quick recovery. 6 weeks is the recommended time before resuming intercourse. I resumed sexual intercourse 2 weeks after surgery with almost no pain and I was able to reach climax a lot faster as well. I began teaching spin classes 2 weeks after surgery which was somewhat uncomfortable but not enough to keep me from my workouts. Dr. Berman and his staff were wonderful. Answering all of my questions and making me feel at ease during and after surgery. I would highly recommend Dr. Berman.

Dr. Berman performed the surgery perfectly. I am much more comfortable with my appearance. I am about 2 1/2 months in and there is still a bit of sensitivity. I was not able to have intercourse until about 6 weeks, unlike most others that can at 3. That is just my personal experience, nothing went wrong with the surgery. They made me feel as comfortable as possible during the procedure since I had a bit of anxiety. All the staff is amazing!

Beyond happy with the results! Got labiaplasty and it was the best process. I was skeptical to do something like this but I felt so comfortable leading up to it, and I honestly had fun during the surgery since I was awake with a local anesthetic. Everyone was so personable and Dr. Berman is so professional, funny, and smart. He's not pushy and they seriously just want you to be happy here. I feel so confident now even though I'm the only one that knows! Thank you Dr. Berman!

I haven't felt comfortable with my labia for a long time. I had Labiaplasty surgery with Dr. Berman and I love the result! He is very efficient with his consultation and I felt in very safe hands. I am so happy I did this surgery with Dr. Berman and I love the result!

Dr. Berman and his staff are truly amazing. I have had several procedures with Dr. Berman and always have been extremely pleased with the results. Dr. Berman honestly cares about his patients and the follow up care he provides even after the most minor of procedures is second to none. I highly recommend Dr. Berman's practice to anyone, for anything!

I had a Tummy Tuck with Dr. Berman on 8/5/19 following losing over 115 pounds. It was truly a life-changing operation. I'm only a week into the recovery and still very swollen... but even if what I looked like today was my final result, I would be very happy. I'm literally a new man. Dr. Berman and his entire team made me feel like a celebrity. Anytime I'm in the office, I'm greeted by name and the staff immediately know what is going on without having to look it up in the computer. Following the surgery itself, Dr. Berman would text me each morning and evening to check-in and answer any oddball questions that came up. I still have a long way to go with my recovery, but in less than a week, I'm about 80% of normal. I'm able to work, drive, walk around, etc. I can sit/stand with almost no discomfort. I would recommend him to anyone in a heartbeat without any sort of hesitation.

I recently had a Tummy Tuck and Liposuction done by Dr. Berman. Dr. Berman was very thorough in telling me what to expect during and after the surgery. During my recovery, he was always open to any questions I had and even provided me with his cell phone number to contact him. He also proactively texted me to ask how I was feeling, and promptly addressed any issues or concerns I had. I am pleased with my results so far, as well as with Dr. Berman and his staff.

Dr. Berman is a miracle maker! I was so discouraged after months of yo-yo dieting that I thought it would never be possible for me to lose weight. My stomach was such a heavy insecurity of mine, to the point that it made me not want to shop, go out with friends, or vacation at the beach. I felt so lost and needed something to propel myself forward in my journey to lose fat. This procedure was the best decision I could have ever made for myself! After the procedure I gained this new sense of confidence that only grew as the months passed and my diet and exercise routine became part of my lifestyle. Dr. Berman's bedside manor is the best I have ever experienced. He was honest and never pushed anything on me, told me what I should expect from this procedure, and the fact that I needed to make a change in my diet if I wanted to maintain and improve my new self. If you are still thinking about/waiting to get this done, don't. Do it!