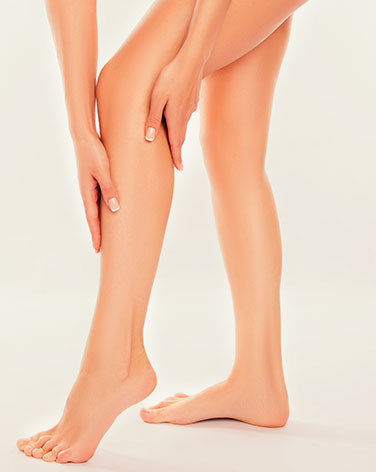 A Cellulite treatment at last
Cellulite has long eluded a truly effective medical solution until Cellulaze, a new laser cellulite treatment. Topical treatments, massage and other various non-invasive techniques offer temporary and inconsistent results. Invasive procedures such as Liposuction or SmartLipo are designed to target fat and not cellulite.
But now there is a procedure that gently but effectively modifies the very structure of cellulite with a single treatment. Cellulaze is a minimally invasive surgical procedure for cellulite with long lasting and clinically significant improvements.
There's simply no comparison. Proven to yield consistent results after just one treatment, Cellulaze is the only minimally invasive surgical cellulite treatment to be offered after extensive clinical study. Safer? Yes. Minimally invasive? Certainly. More effective? Cellulaze has documented proof that just one single treatment results in:
Measurable improvement to cellulite's appearance

Improvement that lasts many years.

Consistently high levels of patient satisfaction
Post-Treatment
Re-Growth Leads To Flattening And Smoothing
In the weeks and months following Cellulaze treatment, the fibrous bands which pull the skin have been released and they will re-grow in new locations while new collagen and elastic fibers (which have been stimulated to grow from the leaser) leads to thicker and more elastic skin. These developments can help flatten the skin and smooth the skin surface, dramatically improving the appearance of cellulite. This improvement will continue for 6 months so you need to have patience. It is imperative that you aim for an improvement and not complete removal of the cellulite. There is no treatment that exists that remove the cellulite.
We recommend that you wear a compression garment such as Spanx or Spandex for 5-7 days after surgery. You may leak some fluid from the incision for the first night but you can definitely return to work the very next day.
Follow Up
If you are from the area, we will see you in two weeks and then at 3 and 6 months after the procedure. We will take new photographs at these visits.
1How long does it take to do the procedure and how is it done?
You need to see Dr. Berman for a comprehensive consult. At this meeting Dr. Berman will examine you and discuss if you are a good candidate and other aspects of the Cellulaze treatment. On the day of the laser treatment, you can either have some oral sedation, in which case you must have someone drive you, or you can drive yourself without sedation. Also eat and drink something before you come to the office. Do NOT fast. We will take pictures of the areas that Dr. Berman will be treating. He will carefully mark the indentations and the bulges and place a grid over the area for marking and then take more pictures after the marking.
You will then go into the operating room in Dr. Berman's suite, where you will be covered with blankets. You will be numbed up with a very tiny needle, 1-2 incisions per area. The incisions are only about 2 mm. A small catheter will be inserted under the skin and to infiltrate the entire surgical area with a numbing medicine. After you are totally numb, a special laser under the skin will be inserted to treat the area. It usually takes about 90 minutes to do one area bilaterally (i.e. one area treated on each leg) and about 2.5 hours to do two areas per side. Dr. Berman rarely does more than this in one setting. However, many patients will come back a day or a few days later and have additional areas treated.
2Clinically proven, patient-preferred
Cellulaze has been thoroughly evaluated to ensure safe and effective results. Clinical study data showed:
A single Cellulaze treatment improved the appearance of cellulite more than one year with minimal side effects

32% average increase in skin elasticity at 6 months post-op when compared to baseline.
3High patient satisfaction
Patient satisfaction was found to be very high at 1 year post op and side effects were minimal:
An over 80% satisfaction rate

Adverse effects were limited to mild discomfort, bruising, swelling and numbness, with complete resolution at three months for all patients.
4Cellulite isn't just a fat problem it's a structural problem below the skin, so why do so many Cellulite treatments focus on treating fat from above the skin?
Only Cellulaze addresses cellulite's very architecture—surgically and, evidence shows, decisively—as part of a truly innovative yet simple mechanism of action.  Only Cellulaze uses Cynosure's proprietary SideLight side-firing fiber technology, which allows for more precise tissue targeting.  Cellulaze can sometimes be effective in reducing underarm sweating as well.
After menopause, the cellulite on my legs seemed to multiply overnight. I exercise regularly, eat a sensible diet and maintain an average weight. I began to avoid looking at my legs and wearing shorts. I did my homework on the procedure and providers and decided to give it a try, feeling like things couldn't get any worse. I had the sides and backs of my legs treated. The results are beyond my expectations. I'm wearing shorts again and feeling good about my beautiful healthy legs.

In addition to the Cellulaze treatment on my thighs (sides and back areas), Dr. David Berman also treated the back of my arms and upper back with SmartLipo. While it takes months to realize the full benefit of the treatments, I already see great improvement. My thighs are much smoother, my back fat is gone and I will finally be sleeveless this summer - the first time in years!! Dr. Berman is a master at both Cellulaze and SmartLipo. His many years of experience are quite evident both during and after the procedure. His follow-up is impeccable. He is very caring. Best of all, there was absolutely no downtime. I worked on the phone the evening I had the treatment and in-person the following day. Dr. Berman's staff is proficient, kind and patient. I highly recommend you have these treatments with Dr. Berman and look forward to a summer of NOT HIDING!!

I recently underwent Cellulaze on my thighs with Dr. Berman and I was very pleased with my experience. My results were really fantastic, really better than expected. Completely independently of my results, however, I would rate Dr. Berman and his practice very highly. Very impressed with the friendliness and professionalism of Dr. Berman and his staff.

My experience with Dr. Berman and his staff has been a very positive one. I am a mid 40s African American female in med/dark skin tone range and mother. I could see the bruising, but it has since gone away for the most part. Ref the injection sites or sites where the laser was inserted, I can still see the marks. The incisions for the procedure are really tiny - smaller I think than regular Liposuction incisions which was another selling point for me (no, I have never had any other Liposuction/surgeries before this). My marks are dark, but not too noticeable. I use bleaching cream just on the incision site to blend with the rest of my skin tone, but it's really not necessary - can't tell unless you are really scrutinizing to see them. No I did not buy the cream specifically for these incision sites, but already had some to treat my acne scar hyper-pigmentation spots from my dermatologist. I initially went in for a consultation for smart lipo on my abdomen and possibly flanks. What impressed me was his candor and honesty. He told me up front that I wasn't a candidate - my fat was visceral and recommended I try to lose some weight (I was 25lbs over my 'normal' or usual weight of 150lbs at 5'6"). After a few months I went back for another consultation for Cellulaze. Dr. Berman answered all of my questions and let me know up front that I might not have what I consider to be 'perfect' results. I then spoke with his office manager/staff further about the costs, and everything else related to the procedure. Unlike other reviews I have read on this website, my experience was a very positive one. Everything went well on the day of the procedure and I took the medications as directed. I knew what to expect on the day of and even afterwards, Dr. Berman called me that night to check up on me. No they do not provide the post surgical compression garment. I had to procure my own, but this was told to me upfront on the day of the consultation. Some might have an issue with this, but I didn't since I already had a couple of compression garments and what was recommended to wear was a compression garment similar to a Spanx. I had my procedure almost 3 months ago and can already see results. I was sore, but never experienced any crippling pain afterwards. Everyone's pain tolerance is different. I did have bruising a couple of days later all purple and blue on the back of my legs, but this has gone away now. I can still see it just a little, but not much on one leg. Overall, great experience!

The Cellulaze was amazing. It was completely worth it and had great results. It was priced fairly and not super expensive. The pain was minimal. Honestly, not much worst than being sore from a hard workout. I was able to do my normal activities the same day. I am so happy I had the procedure.
Contact us for a consultation!