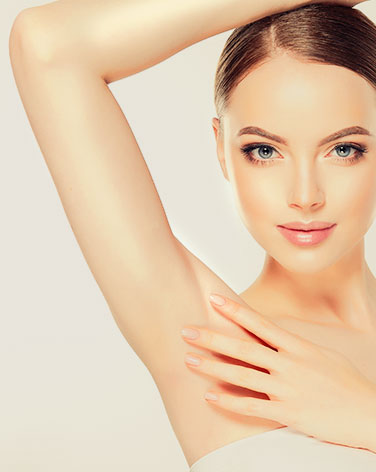 Laser Hair Removal- Overview
Laser Hair Removal is one of the most exciting advances in the cosmetic world! It involves using a specialized laser to remove unwanted body hair. We use a Cyanosure Elite Laser, which we believe is currently the best on the market.
We recommend that you shave the day before the treatment (rather than the day of the treatment). You apply a numbing cream that you purchase from our office. This should be applied one hour before your laser treatment and covered with saran wrap.
Please come in 10 minutes before your appointment and wash the cream off in our restroom. One of our aestheticians will administer the treatment which is quick and painless for most patients. The hair will not fall out immediately. You will need about 4-9 treatments for your hair removal in most cases.
1Who is this for?
Anyone with dark hair anywhere! The Elite laser is essentially 2 lasers in one. It is an Alexandrite laser and also a YAG laser.  The Alexandrite laser is for people with white skin and the YAG laser is safe for all of those people with darker skin.  People have used Laser Hair Removal to remove hair from their upper lip, bikini area, armpits, back, chest, legs, between the eyebrows, around the nipples etc.
2What you can expect?
Generally, after 4-9 treatments on the body and slightly more in the facial area, we are able to eliminate unwanted dark hair, in some cases, forever. Imagine being able to throw out your razor and saying, "Good bye" to razor burns and rashes!
Always hated hair. Much more smooth, clean and nice. Took over 12 treatments but lots of tricky spots. I will have my whole body done. I would highly recommend everyone have this done. Pubic hair is way overrated and worthless. Is it was up to me, I would mandate every person have it done. Wish everyone agreed.

I was tired of shaving and wanted to give this laser a shot. I saw result after just one time. I took the Christmas deal to try it out with half off. Then I went back for the 30min. And increased my area from underarms to face and hands. Especially with indian skin I was little concerned as this is my second laser place. I saw results and I went back to finish it.

This is my 4 session on my bikini area and this time it was a game changer, because of the new numbing cream. I was very comfortable and no unpleasant burning feeling. As always dr. Berman and his staff is very ethical and professional.
Contact us for a free consultation!