August Only Special
[maxbutton id="11″ ]
Breast Augmentation Procedure Steps
Of course, the first step is coming in for a FREE breast augmentation consultation. I schedule a large amount of time for these consults. In the consultation, I will spend 45 minutes going over every aspect of the breast augmentation process.
To begin the consultation, I will ask you about yourself, your health history, if you are taking any medication, drug allergies, etc. I also ask about any close (mother or sister) family history of breast cancer, if you have had children, if you want children and if you have ever breastfed.
After that, I will examine you and take measurements of your breasts. I take pictures. The pictures are for your chart only. They do not show your face. They are taken from the front and each side. We are always happy to email you your before and after surgery photos.
Anyone who has their pictures on my website has given my office special permission to do so. After that, you will put your shirt and bra back on and I will complete the rest of the detailed discussion. You can ask questions any time.
I will explain the 4 reasons why I almost always put the breast implants under the muscle. The reasons are:
1. They feel more natural
2. They look more natural
3. Better mammograms
4. I feel the implants are less likely to develop hardness or capsule formation
I will also discuss the pros and cons of silicone and saline implants. Why I almost always use a funnel when I place silicone implants. I will discuss my methodology to help you select the breast implant size that you want.
I will go over the two incisions that are possible – either periareolar (about 80% of my patients select this option) or the inframammary incision (about 20% of my patients prefer this incision). Both incisions are equally easy for me to use.
Breast Implant Sizes and Types
Most of my patients, if they live locally, will come back in for a second consult, where we will finalize the implant size, the incision and sign consent forms. If you live out of town, you can usually just arrive the day before surgery. All of the preliminaries can be done via email and phone calls.
They will be given their prescriptions (assuming a surgery date has been selected) and will be given a follow-up appointment (the first of many follow up visits if they are not from out of town). I give my personal cell phone in case there are any post-op concerns.
The Day of Surgery
I don't do breast augmentations in my office because in my office I only use oral sedation and local anesthesia. As a result, I presently use a wonderful surgicenter in McLean.
As with any general anesthesia case, you cannot have any food or water after midnight the night before the surgery. Also, you will need to avoid aspirin, Bufferin, and Excedrin for 10 days before your surgery.
You will be given an arrival time. PLEASE do not be late. Also expect traffic since this is, after all, Northern Virginia.
You will always see me before surgery and I will place some markings on your breast. You will then get an IV which will cause you to sleep. The actual surgery will take me about 45 minutes but all surgicenters charge you from the moment you enter until you leave the OR.
This month only, Berman Cosmetic Surgery is offering $500 off the normal surgical fee for breast augmentation. Contact us to learn more!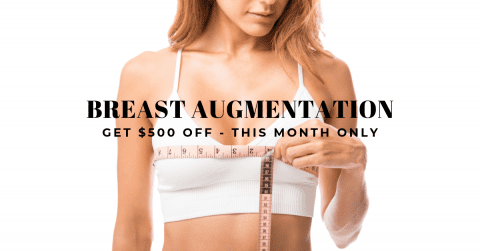 [maxbutton id="11″ ]
Breast Implant Surgery Recovery
The only dressing is a small steristrip over the incision. I use dissolving sutures and no drains are used. Sometimes a small gauze is placed over the steristrip, in case you have a little bit of bleeding afterward. You will then go into a sports bra which should feel comfortable and not overly tight.
I will give you shoulder and chest stretches that I want you to start on the way home from the surgicenter and do a few times per hour. These will greatly speed up your recovery and minimize your post-op discomfort.
Some women find it feels good to put ice packs on their upper chest (eg frozen peas or corn etc – we are fruit fluid here so any fruit is fine:) – it is totally optional and does not change your final result at all. I want you up walking and moving around, even the first day, but then also give yourself time to rest and nap.
The evening following your surgery, I want you to take everything off (only leave on the steristrip which is glued in place and it will not come off in the shower) and take a normal shower and use whatever soap you desire. It is fine for the breasts and incision to get soap and water on them. You will feel much better after your surgery, so don't skip this.
Every woman, after a breast augmentation has swelling that is predominantly in the upper pole of the breasts. This swelling will increase for 3 days and will then gradually decrease. You need to allow 3-4 months to look your best. You will look great in clothes immediately but to look your best topless, allow 3-4 months.
When Can You Return to Work?
Virtually all of my patients return to work in 4-5 days. I have even had a few patients, do their BA on Friday and return to work on Monday, though I personally suggest, allowing more than just 3 days.
When Can You Resume Exercising?
You can be up walking and doing stairs in your house, immediately. I don't want you to drive your heart rate way up until one week. At one week, you can do exercises like elliptical or spin class and weights for your lower body and maybe biceps.
After about 2.5 weeks, you can start running. Between 4-6 weeks, you can do whatever you want but just work into it gradually over a few days. You can have sex the day after surgery if you want to, just don't set a new personal record in this area yet.
When are the Follow Up Appointments?
If you live in the area, I will usually see you at 1 week, 3 weeks, 6 weeks, 3 months, 6 months and yearly. However, I can always see you more or less often, as necessary.
What About if You Live Farther Away?
I have had many patients come in from out of town and out of state. I can do all of the preliminary consults, selecting implants, etc by email and phone call. You can just arrive the day before your surgery to meet me and then can leave a couple of days after your surgery.
The great thing these days is that everyone has a cell phone and you can always send me photos to check your progress or if you have any concerns.
Click to get $500 off your Breast Augmentation
[maxbutton id="11″ ]